Over the years it has been businesses that have really dominated the world of Twitter marketing, and social media marketing as a whole. Perhaps because they could afford to hire full teams of marketers and internet experts to handle their profiles and engage customers on their behalf.
But since 2009 in particular, Twitter has seen a surge of non-profit organizations taking advantage of its unique features to reach people and teach others about their cause. So much so that there are hashtags dedicated entirely to specific organizations and causes that are spreading all over Twitter.
One of the slightly newer features to hit the non-profit world is the tweetchat.
I had been new to the notion of "Tweetchat" until I discovered MyBlogGuest Twitter chat (which is a fantastic resource of blogging tips). Since then, I have been in search for non-profit chats as well. Here's what I found so far!
There are three in particular that have gained a lot of attention recently.
1. #npcons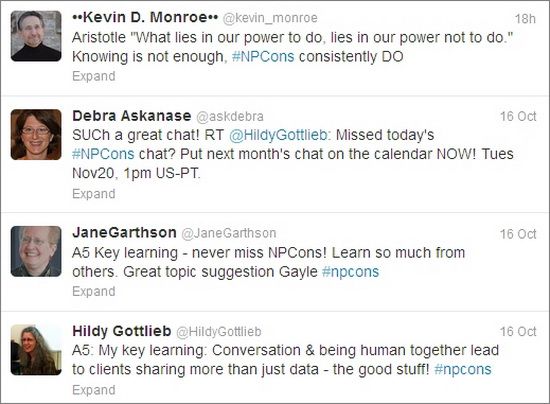 Non-profits have a really hard time finding the right consultants. There are just so many factors involved, many of them cause or ethic related. I would even go so far as to say that it is significantly more difficult for a charity to find a consultant than any other industry. Especially considering their limited budgets, the role of clients and their general staff. Consultants and charities can now come together to discuss the importance of this connection, as well as become more adept at handling the beginning stages. It is held every third Tuesday of the month, from 1PM – 2PM PST.
2. #nptalk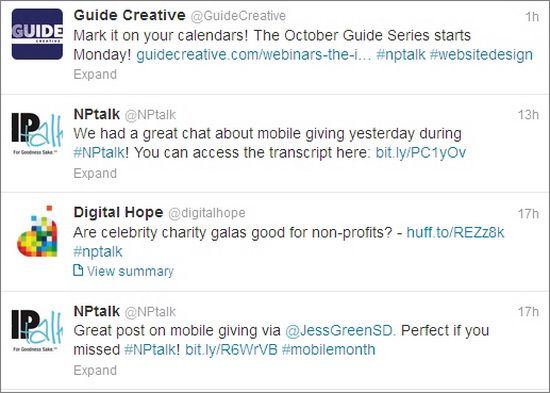 There is a lot to talk about in the non-profit world. Learn about other causes, spread awareness of your own, discuss financing issues, world crises and anything else that is important to the average charity. All while connecting with many others in the same industry who work as hard as you do for the good of the world. It is held every Wednesday, from 4PM – 5PM EST.
3. #smNPchat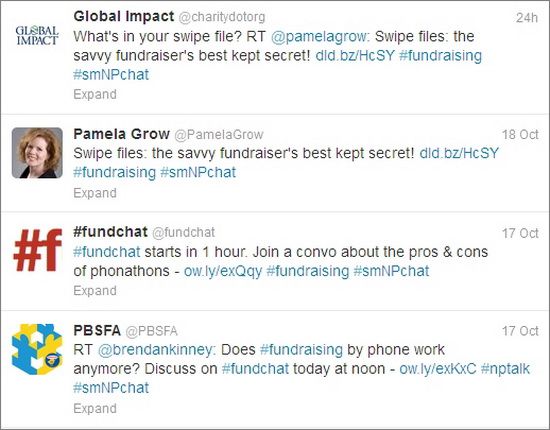 Small non-profits have a special kind of challenge to overcome. They don't have the widespread awareness of the bigger organizations, are usually not connected to large corporations that can offer large funds, get fewer donations and have to make do with very little for their overhead. If you have ever worked for a small non-profit, you know well the struggles that come along with it. Even if the work is worth it. Now you can talk about it with others facing those same problems and experiencing the great triumphs of working for a tiny charity. It is held every other Friday, from 12PM – 1PM EST.
Do you know of any good non-profit tweetchats that you think we should be aware of? Thinking of starting your own? Let us know in the comments.
Jessy is the tech writer at TekSocial, the huge resource of user-submitted video reviews. Check our Youtube channel!
Images courtesy of Teksocial